The longest running contemporary festival in Spain
COMA (Madrid International Contemporary Music Festival) is a project for creation and development of contemporary music created and released in our country, with linkages that span national and international collaborations.
that the Madrid Association of Composers AMCC has been uninterruptedly organizing the International Contemporary Music Festival of Madrid COMA since 1998. In parallel, it's been carrying out world premiere cycles of composers' works, FAIC concerts in Madrid of composers from other autonomous communities, as well as international exchanges with other federations.
Due to its longevity and its relevance, COMA has established itself as one of the benchmarks for contemporary music creation in our city. Thanks to project cycles, festivals and premieres, the city's audience has been able to enjoy free world premieres by composers like Cristóbal Halffter, Luis de Pablo, José Luis Turina, Tomás Marco, Antón García Abril, as well as more than 150 national, international and local authors from Madrid.
Around 20 concerts are organized each year, presenting more than 80 authors and 60 prestigious international interpreters. Between 40 and 50 symphonic and chamber music world premieres are recorded, a legacy of incalculable cultural value.
We have some of the most prestigious groups of the national and international contemporary music scene (Sax Ensemble, Cosmos 21, Sonor Ensemble, Ensemble Kuraia, Trío Arbós or Neopercusion, among others), all sharing a bill with young performers who are taking their first steps as professionals.
The ultimate goal is to give fresh impetus, to make visible and dignify the creation of contemporary music, supporting its release and interpretation, bringing it closer to the city's audience at as many locations as possible and to generate a sound and video memory for future resource and documentation.
A solid track record

Scenic spaces where premieres have been held: Teatros del Canal, National Auditorium, CentroCentro, Royal Academy of Fine Arts of San Fernando, Reina Sofía Museum, Royal Superior Conservatory of Music of Madrid, Conde Duque Cultural Center, Thyssen Museum, Prado Museum, Casa de América, as well as centres and auditoriums throughout Spain within the FAIC concerts.
Premieres by composers rewarded by the Spanish National Music Award, the Tomás Luis de Victoria Ibero-American Award, the Gold Medal for Fine Arts, the Honegger Award…. Among them: Cristóbal Halffter, Luis de Pablo, José Luis Turina, Tomás Marco, Ramón Paús, Antón García Abril, Carmelo Bernaola… up to more than 150 composers only in the last ten years.
Premieres performed by rewarded groups of the National Music Award (Trío Arbós, Sax Ensemble), the Melómano Award (Xavier Ricarte Faixó, Miguel Vallés), the CINTAS Award (New Ensemble of Segovia) and many others.
Participants and collaborators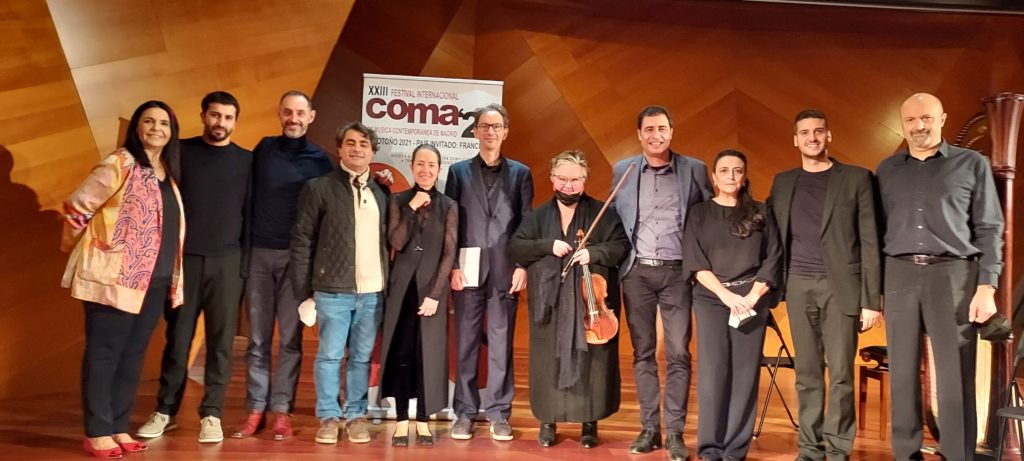 As the organizer of the COMA International Contemporary Music Festival of Madrid, AMCC – with the help of associates' fees – actively participates in the developing of activities and financing, ensuring that concerts are free to access, and by that, facilitating the public's attendance to contemporary creation works. We believe that there's no better way to demonstrate our commitment than financing part of the total budget from our own pocket. Given that the situation of contemporary music in Spain is delicate, we have always preferred to be economically responsible. This approach allowed us to give away free tickets and by that encouraging attendance.
We relied on the help of INAEM, SGAE, Madrid City Council, Community of Madrid, Association of Interpreters and Performers and AIE, as well as we counted on the collaboration of CentroCentro, Teatros del Canal, Real Academia de Bellas Artes de San Fernando, CC Casa de cows, RCSMM and many others.