AMCC: Presentation and goals
Contemporary classical music in the Community of Madrid suffered from the absence of an associative entity of composers, a strong and consistent group, which would defend the rights of its authors, as well as it'd offer educational programmes for young generations, collaborating with ensembles of conservatories and with young orchestras, promoting their associates' work, etc.
To create a supporting and active group for a profession like the composer of non-commercial or consumer music was even more necessary due to the profession's own nature. One has to work in hermitic isolation, fight alone to make place for oneself, to have his voice heard in a society that shows little interest in music that follows the great cultured tradition.
There are various composers' associations in autonomous communities, but there is none at the national level. Therefore, the foundation of the one in the Community of Madrid -in which many of the most outstanding composers of the entire Hispanic territory could reside- was urgent and necessary.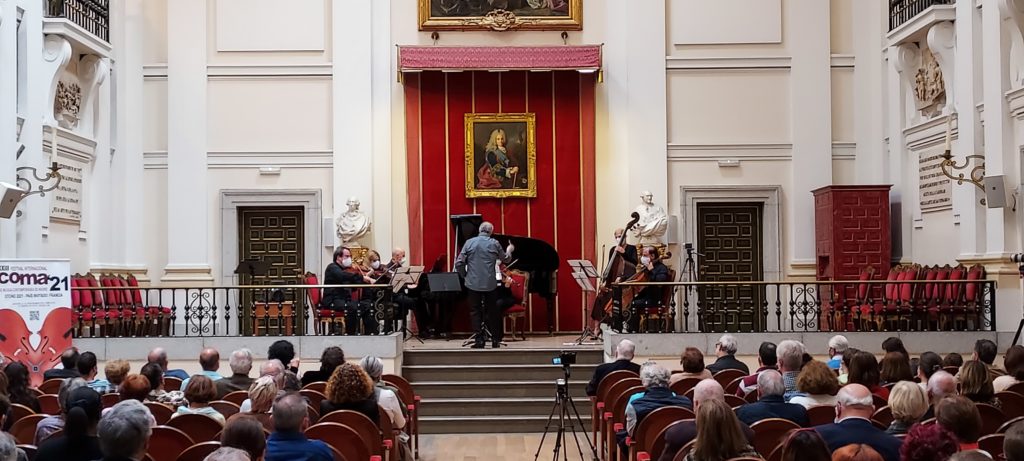 The Association of Composers in Madrid was created in 1998 (registered under the Autonomous Registry number 17,118, issued by the Order of the Ministry of the Presidency, March 13, 1998) with the following objectives:
Grouping contemporary cultured music authors born or resident in the Community of Madrid
Achieving cohesion among them, a group conscience with common interests
Fostering communication between them sharing ideas and projects
Joining forces to achieve a fair dissemination of members' musical works
Creating a solo vehicle for dialogue by the means of institutions and the media in order to defend their interests as creators.
Promoting contemporary music, both in its creative aspects and in dissemination in general.